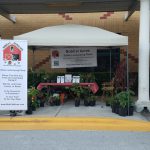 See you all at the Monday Market at Lake Nona YMCA
this evening from 4:30 PM to 8:30 PM.
We'll have a nice selection of edible landscaping plants for your yard or patio.
Be it Berries, or Fruits, Leaves or Roots
All our plants are edible in one way or another.
Most can be grown in containers on your patio or your yard.
They Grow food and look good doing it.